The three founding shareholders of PK&H have practiced law together for nearly a quarter century, underscoring how and why PK&H maintains cohesive core values and a uniquely unified vision of what the firm is and should be.
The firm enjoys remarkable client longevity. Many clients of PK&H have been with the firm since its inception, and these longstanding relationships are a testament to its efficiency, responsiveness, consistently high level of performance, and commitment to its clients.
Page, Kruger & Holland, P.A. concentrates its practice in the area of litigation, ranging from commercial and personal automobile liability defense, medical malpractice defense, insurance bad faith, insurance coverage, construction law, fidelity and surety law, defense of architects and engineers, products liability, public sector defense, worker's compensation, premises liability, employment litigation, restrictive covenants, intellectual property litigation, disputes among partners or shareholders, commercial litigation and mass tort defense.
While these primary practice areas have remained at the heart of PK&H's expertise throughout the firm's existence, the firm has broadened its practice to fully serve the needs of its clients. The firm's attorneys have expertise in drafting, as well as reviewing and offering counsel about contracts, trademark and copyright applications, domestic relations and family law, business and corporate transactions.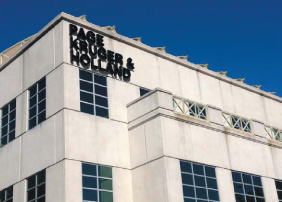 Page, Kruger & Holland, P.A.
Physical Address:
10 Canebrake Boulevard
Suite 200
Jackson, MS 39232-2212

Mailing Address:
Post Office Box 320999
Flowood, Mississippi 39232-0999

Telephone: (601) 420-0333
Facsimile: (601) 420-0033